Heath & Welfare Benefits Quick Reference Guide

for Members disabled due to illnes, injury, furlough,

suspended or dismissed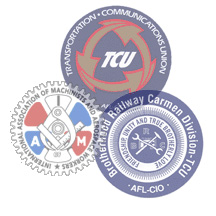 www.tcu6760.com

Heartland Lodge 6760

Revised August 30, 2012

The length of health care coverage for suspended, dismissed, furlough or death, including dental and vision extends through the last day of the fourth month following the month compensated service was last performed by the member. Coverage also includes a dependents. There is a possibility for continuation of existing coverage for your dependents that have a total disability or in the third trimester of pregnancy with the four month period expires.

It is important to know your benefits

Health care coverage is extended longer for members off work due to illness, injury, or awarded disability through the Railroad Retirement Board (RRB). Members are covered for the remainder of the calendar year in which they last received compensation for service (qualification year), including vacation pay plus two additional years. Dental and vision coverage remains in effect for the remainder of the qualification year plus one additional year. Dependents' coverage extends through the qualification year plus one additional year.

After coverage ends, members can purchase Plans A, B, or C through United Health Care. For detailed information about each plan call 800-842-5252.

Railroad employees who are not able to continue to work due to illness or injury may qualify for Occupational Disability under the Railroad Retirement Act. To qualify, a railroad employee must have 240 months of creditable compensation for a railroad or a railroad labor union. The minimum compensation is $25 per month from either a railroad or a railroad labor union to receive credit for a month. The member must be off work and unable to perform your railroad occupation for 5 continuous months. During the five month waiting period the member should make application for occupational disability through the RRB. To initiate the application process call the RRB at 877-772-5772.

Members with less than 240 months of creditable service may qualify for Total and Permanent Disability. A member who is unable to perform any type of employment, including light or sedentary work can apply for Total and Permanent Disability. Call the RRB at the number above to apply for this benefit. If your claim is denied, members have a right to request reconsideration.

If reconsideration is denied there is an appeal process available. If a member wishes to appeal a denial by the RRB, it is advised that the member contact an attorney who handles such appeals.
See our recommended list.