Lodge 6760 held its 2009 educational seminar May 20, in Fort Wayne, Indiana. The seminar is part of an ongoing effort by the Lodge to provide training to its officers. Local Chairman Steve has turned the seminar series into an annual event, which endorsed by the Grand Lodge and is underwritten by the law firm of C. Marshall Friedman, designated counsel for TCU.

The seminar kicked off with all of the participants introducing themselves. Attending were Local Chairman Steve Wilhelm, Vice President Kevin Mitchell, Vice Local Chairman Mike Bleser, Vice Local Chairman Gene Wagner, Chris Hiser, Assistant Local Chairman Phil Graham, Financial Secretary-Treasurer Robert Reisinger, Vice Local Chairman Larry Bray, President Phil Amadon, Webmaster Steve Pequignot, International Representative Jack Wright, Assistant International Representative Roger Cain, representing the Law Firm of C. Marshall Friedman were Robert Pless & Jim Reese.

Local Chairman Steve Wilhelm introduced Robert Pless as the Keynote speaker of the seminar. Mr. Pless, an investigator for the law firm of C. Marshall Friedman, spoke about the need for each union member to be aware of their rights and the advantages of being covered by the Federal Employers' Liability Act and the importance of reporting an on-the-job injury. Mr. Pless also stressed the importance of ensuring injury reports are accurate and that members retain a copy for their records.

Local Chairman Steve Wilhelm spoke about the representational process available to lodge members. He stated that Lodge 6760 is the largest local lodge that represents BRC members employed by Norfolk Southern. As such, Lodge 6760 has the largest local protective committee in Unit 200. These officers ensure that all negotiated agreements and benefits are made available to every member.

Brother Wilhelm also spoke of the importance of the IAM MNPL program, which offers support to political candidates who are labor friendly. Additionally, the Local Chairman urged every lodge member to sign up for MNPL check-off and stressed the importance of supporting a pro-union political action committee.

Steve Pequignot spoke about some of the new features of the Lodge's Website. He also discussed future web-based concepts that are available to our members via the Website. The Lodge Website has been online for 13 years and has served over 2.9 million visitors.

Assistant Local Chairman Phil Graham spoke about rail employees' sickness and  unemployment benefits under the provision of the Railroad Retirement Act. Brother Graham stressed the importance of completing the benefit forms timely to ensure quick benefit relief. After the presentation members asked many questions about unemployment issues.

After a luncheon Mr. Jim Reese briefed the officers about some of the changes in the Railroad Workers' National Health Care Plan, GA-23000. Mr. Reese is a former representative of United Healthcare & Travelers Insurance. He presented a portion of his vast knowledge of healthcare benefits to the group.

President Phil Amadon was introduced and spoke about the 117-year history of the Lodge and the importance of staying united toward a common goal and that nothing in word or deed should be done to injure a sister or brother member.

Next, Steve Pequignot presented a module on what to do when you get ready to retire. Steve addressed when to start the retirement application process, what documents are required, He spoke about health care insurance under GA-46000 & GA-23111, an option for COBRA insurance for 18 months. Steve concluded by informing the officers of other income maximums after retirement.

Lodge 6760 Educational Seminar, May 20, 2009 at Fort Wayne, Indiana

Lodge 6760 Educational Seminar

May 20, 2009

Fort Wayne, Indiana

all photographs copyright (c) 2009

www.tcu6760.com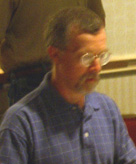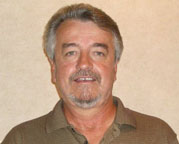 President Phil Amadon

speaks about solidarity

Keynote Speaker Robert Pless

addresses FELA issues

Local Chairman Steve Wilhelm discussed the NS START Agreement with the officers, stating there have been nearly 1000 STARTS on our members since its inception in 2002. Steve pointed out the benefits and the pitfalls of the agreement. He provided officers with key tips for them to use while representing members during a START conference.

Following Steve's presentation, he introduced  Assistant International Representative Roger Cain. Brother Roger gave a brief review of some of his duties, including handling START and discipline cases for our members. He also provided detailed information about the recently revised Student Agreement. Brother Roger complimented the Lodge for continuing to educate officers at these seminars. Roger offered his assistance to any member anytime.

Brother Wilhelm introduced International Representative Jack Wright. Brother Wright spoke about Rule 52 of the 2003 controlling agreement and the importance of the doctor/patient confidentiality.

The seminar concluded with a dinner that evening, during which, International Representative Jack Wright declared a new dining champion.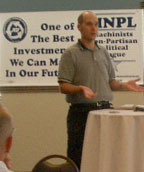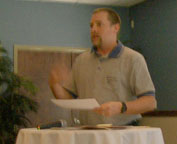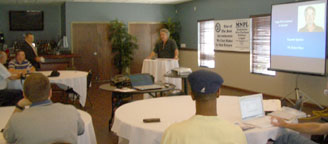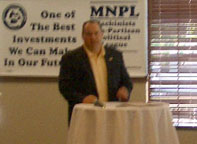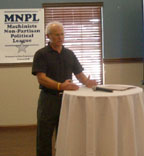 Local Chairman Steve Wilhelm

opens the 2009 Seminar

Assistant Local Chairman

Phil Graham addresses unemployment &

sickness benefits

Steve Pequignot speaks about

retirement & Website issues

Jim Reese represents

C. Marshall Friedman

Law Firm & discusses

insurance plans

Jack Wright speaks about

the controlling agreement

Rob Reisinger discusses

local issues

Roger Cain informs officers

of the recently amended

student agreement

Robert Pless delivers the keynote address