Chattanooga, Tennessee – Wednesday, September 14, 2011, TCU/BRC Lodge 6047 hosted a training seminar for Local Chairmen, point committeemen and various lodge officers of the Brotherhood Railway Carmen Division, Unit 200. Local Chairman Carl Lakin of Lodge 6047, at Knoxville, served as the emcee for the seminar.

Several speakers presented information regarding how to best represent members in a formal investigation, how to utilize the Federal Employers' Liability Act in the best interest of an injured member, the union's duty to fairly represent its members, understanding the new provisions in the Federal Railroad Safety Act, the importance of visiting all members at outlying points, how to properly complete an on-the-job injury report, how to research claim information on the awards database, union leadership information that is available to officers online, and the importance of attending hazmat training classes. The officers also received updated details covering the recent developments in the National Contract, along with union news updates regarding Resolution 51 Flash News, Resolution 32 MNPL, political issues, 2010 voter turnout, information for delegates attending the 2012 IAM Convention in Toronto.

Along with Carl Lakin, the host, speakers included Roger Cain, TCU/BRC Unit 200 National Representative; Steve Wilhelm, TCU/BRC, Assistant National Representative Unit 200; Carl Goforth, Lodge 6060 FST; Robert Friedman, Legal Counsel, from the C. Marshall Freidman Law Firm; Jack Wright, Don Palmer and Steve Pequignot, from the C. Marshall Friedman Law Firm. Marshall Friedman gave the keynote address via Skype audio/video connection from California.

Lodge officers attending the seminar were Dennis Wilson, Local Chairman, Lodge 6205; Casey Lee, Local Chairman & Bud Sherwood, Financial Secretary-Treasurer, Lodge 6546; Scott Allen, Local Chairman & Don Vorchester, Vice Local Chairman, Lodge 6034; Lewis Smith, Local Chairman, Lodge 6354; Carl Lakin, Local Chairman, Jonathan Hoover & Ken Ewton, Vice Local Chairmen, Lodge 6047; Mike Kennedy, Local Chairman, Lodge 6277; Ken Cooper, Local Chairman, Jeff Masterson, Vice Local Chairman & Carl Goforth, Financial Secretary-Treasurer, Lodge 6060; and the only ten-term local chairman in the United States, Jerry Kudlo, along with his Vice Local Chairman Hector Albarado from Lodge 6560.

On a sad note, Local Chairman Kevin Hayes did not make the event as his wife had emergency surgery just prior to his departure time. All members attending offered a special pray for Brother Hayes' wife's full recovery.

The two-day event was sponsored by the C. Marshall Friedman Law Firm, headquartered in St. Louis, Missouri.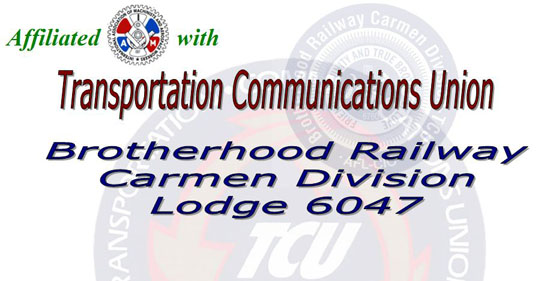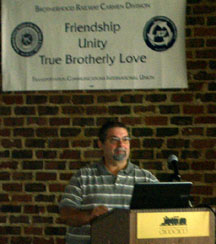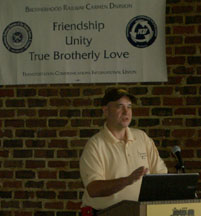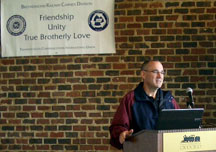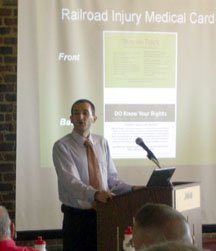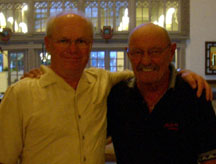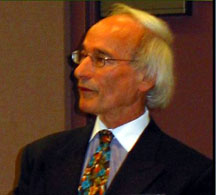 Host Carl Lakin greets lodge officers as he opens the seminar

Roger Cain explains various points about handling formal investigations

Steve Wilhelm updates officers regarding many key issues important to TCU members

Marshall Friedman addresses the officers via Skype

Robert Friedman informs officers about new laws under the FRSA & introduces the new informational cards developed by his firm

right - Longtime colleagues Steve Pequignot & Jerry Kudo share a few moments discussing their careers. They have 56 years of combined experience as local chairmen. Jerry is now the longest standing local chairman in the union.

Jack Wright, Steve Wilhelm & Don Palmer take a break after setting up the conference room

Attending the seminar are left to right: Bud Sherwood, Mike Kennedy, Casey Lee, Jack Wright, Steve Wilhelm, Don Vorchester, Robert Friedman, Jerry Kudlo, Don Palmer, Roger Cain, Scott Allen, Lewis Smith, Dennis Wilson, Carl Goforth, Ken Ewton, Hector Albarabo & Ken Cooper. Also attending, but not in the photo are Carl Lakin, Jon Hoover, Jeff Masterson & Steve Pequignot

The Law Firm of C. Marshall Friedman is pleased to have had the opportunity to sponsor this union function. The firm is available to answer all of your legal questions. Call us toll free at 800-233-7636, or visit our website at:
www.marshallfriedman.com.
C. Marshall Friedman

A Professional Corporation

Attorneys At Law

13th Floor

1010 Market Street

St. Louis, Missouri 63101

"Big Firm Experience, Small Firm Devotion"

Heartland Lodge 6760

September 24, 2011

Copyright © 2011-2012

www.tcu6760.com

2011 Lodge Officers Seminar

The officers attending wish to thank Jennifer Stolte for her long hours of dedication in scheduling every detail for this event. Additionally, we thank Marshall Friedman & his law firm for continued support to further the union movement.